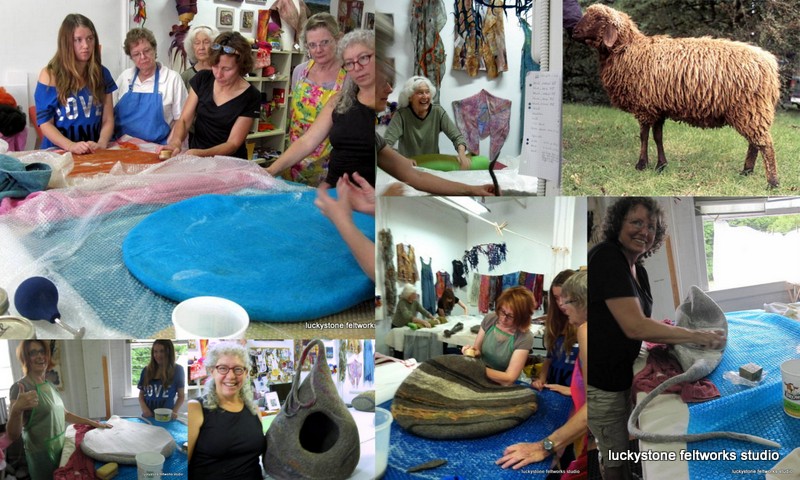 Well, what a workshop!  I decided I should write about my guest instructor: German feltmaker Monika Pioch and her Cat Cave workshop while I am still on a high.  I love having the studio filled with feltmakers, but this workshop was truly a unique experience.  I've been mulling over exactly what it is about workshops (and workshops in my own studio in particular), that makes me so happy.  The answer is: a whole lot of things.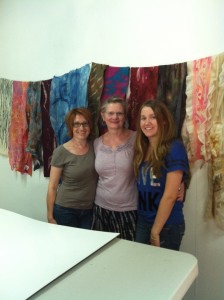 I met Monika in face to face for the first time when she arrived in Glens Falls to teach for me.  I had never seen her work in person.  I've never known any one who has taken a workshop from her, come to think of it.  We "met" on Facebook a year and a half ago.  When I saw the cat caves on her Katze und Filzkunst page, I was wowed by the simplicity and strength of her colorful forms; the smooth, tight surfaces she creates in her sculptural feltwork- bespoken feline retreats.   I had never really seen anything like it.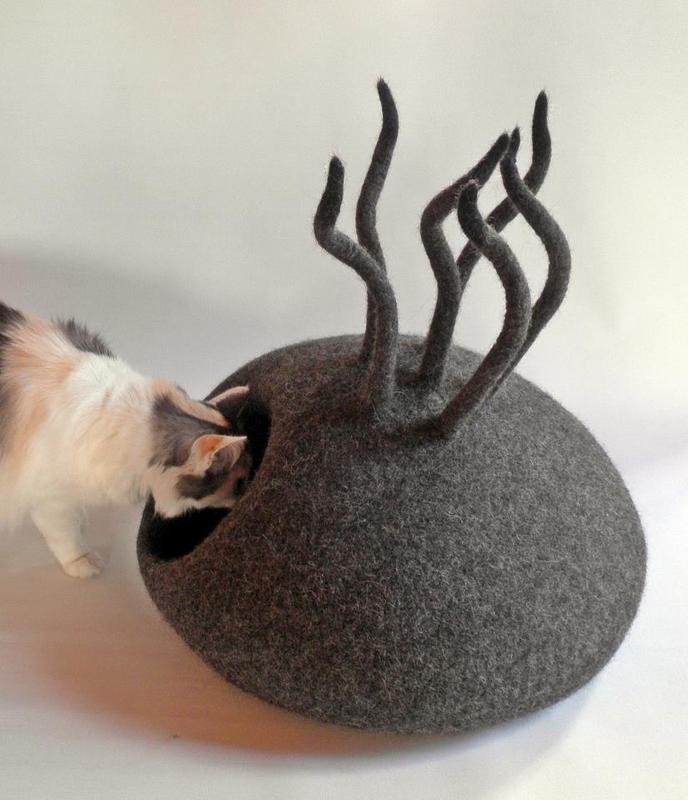 There is a funky playfulness to her work, but it is clearly executed with superior technical skill.  I messaged Monika on Facebook to ask if she had written a tutorial on felting a cat cave.  The answer was no, so my next thought was to invite her to my studio in Glens Falls, NY to teach a workshop, and she accepted.
On the internet I have stumbled upon inferior cat cave imitations, but Monika's work is very distinct.  With the increasing popularity of felt making on a global level, we see all sorts of felt being produced today; some of it is mediocre, some of it is good, but Monika's work falls into the category of GREAT felt in my opinion.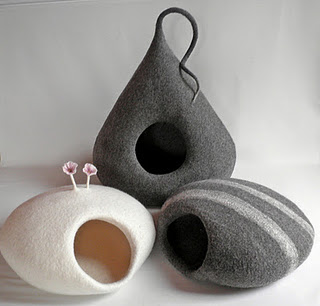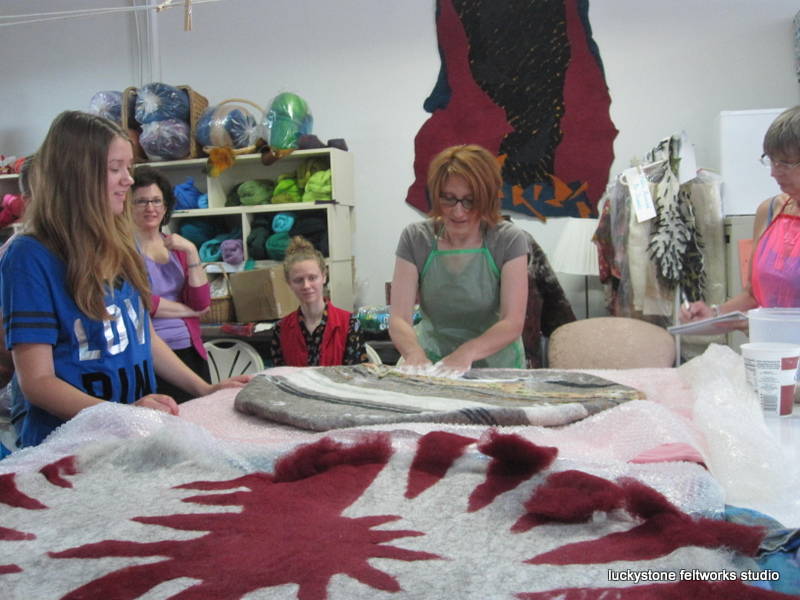 When we met, I understood why.  She is a small woman, but like my friend feltmaker Sachiko Kotaka, Monika is a bundle of passionate, powerful felting energy.  She  carefully explained that her cat caves- from her unique designs to her precise execution – are her "heart".   She explained her request that her cat cave designs be limited to personal use (students should not sell, share or teach with them)  and talked about the copyright she holds in Germany.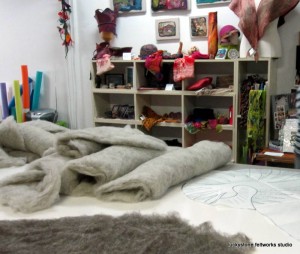 Monika's work is executed with Tyrolean Mountain wool, available in dyed colors only from her source in Germany.  I thought I placed my German wool order for the workshop in time, not realizing I should have allowed for delivery glitches.  Ten days before the workshop, the tracking information on my wool shipment ceased being updated, and there was no indication it had arrived in the states.  One week before the workshop, no updates and no wool had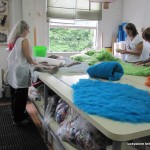 arrived.  I stopped sleeping.  Days before the workshop, no wool.  Monika was cheerily sending me replies that she was sure it would arrive.  But with students coming, what would we do if it did NOT?  I scrambled and made plan B.  Then half of the wool arrived, I made plan C.  The final half of the wool order arrived the day I was about to jump off the deep end.  FIBER CRISIS AVERTED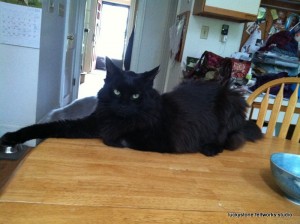 While we were getting ready for the workshop- Freya, our beloved Maine Coon Cat, was diagnosed with inoperable cancer.  I wasn't sure how I'd handle focusing at a workshop where I hoped to create a refuge for my cat.   It did turn out to be a challenge, but the good cheer that Monika listed on her required materials list was in abundant supply.
Monika's warmth and humor complimented Caro's poise and patience as she interpreted into English every sentence her Mom spoke in German.  
It reminded me a bit of the film "Lost in Translation".   They kept the participants engaged, and everyone showed tremendous dedication to their projects.
Participants were given the opportunity to choose the style of cat cave they wanted to make from Monika's  collection, so there were a wide range of colors, shapes andinterpretations.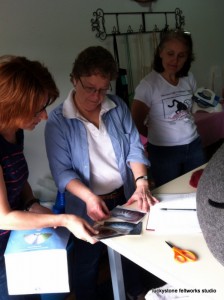 My invaluable intern Maureen spent days helping me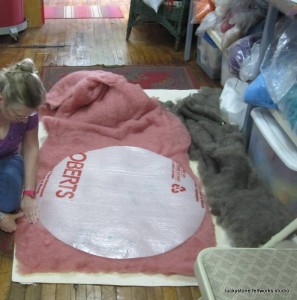 reorganize the studio to accommodate my big summer workshops, down to making scale mockups of the tables and shelves from graph paper to eek out space.  It all looked great and worked quite well, but there is never enough space to lay out 11 kilos of wool batt!  We spilled out into the hallway and onto the floor of my studio to prepare our wool on the first day, but no one complained!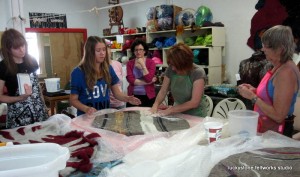 We discovered that, like Volkswagen, Monika's engineering skills are very refined; down to the correct volume of water to wet out our wool, and the precise grams of soap to water.  As I anticipated, most students interpreted Monika's soap-to-water formula on her materials list as a suggested guide line.  It wasn't.  We joked that we were thinking like Americans!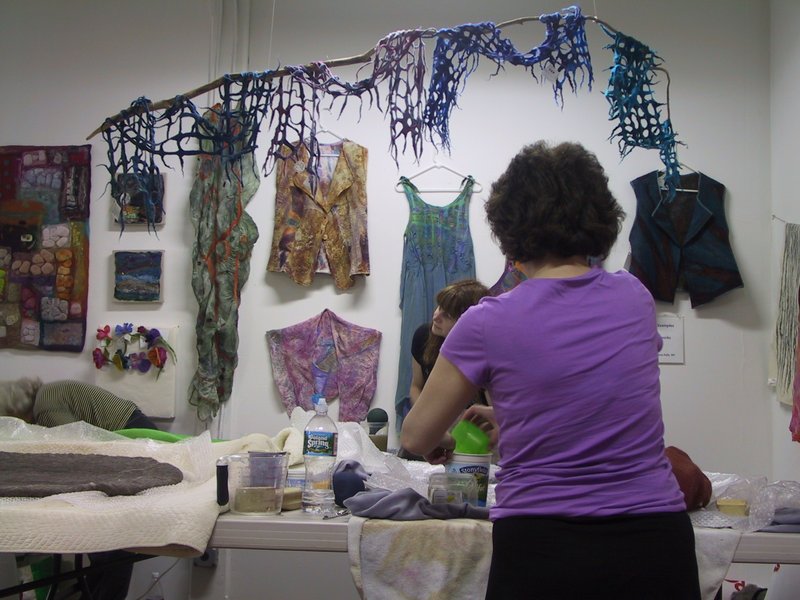 After making 300 cat caves, Monika has developed the most efficient way to achieve reproducible results.  She knows exactly how, what and where; but graciously tells students other ways will work, but may be slower.  We really had to pay attention.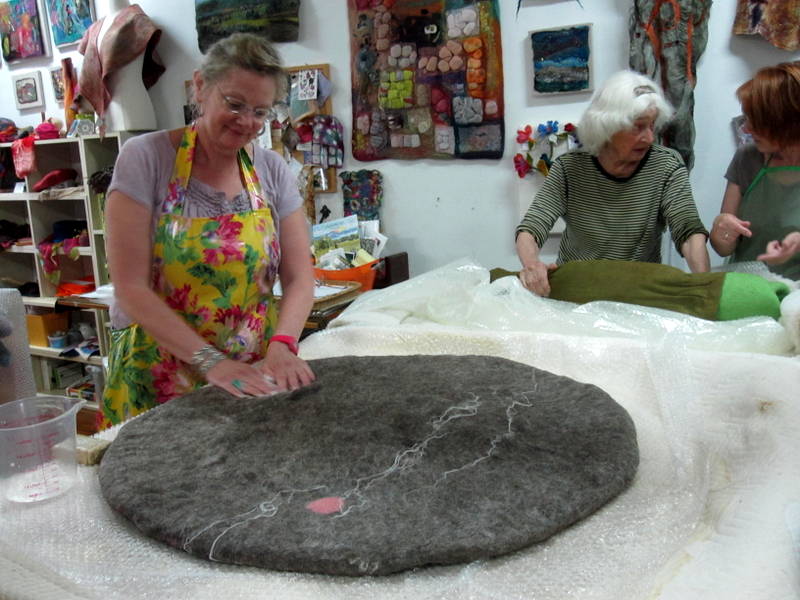 Sadly, I had to stop felting early because of a hurt arm, but I will finish gradually.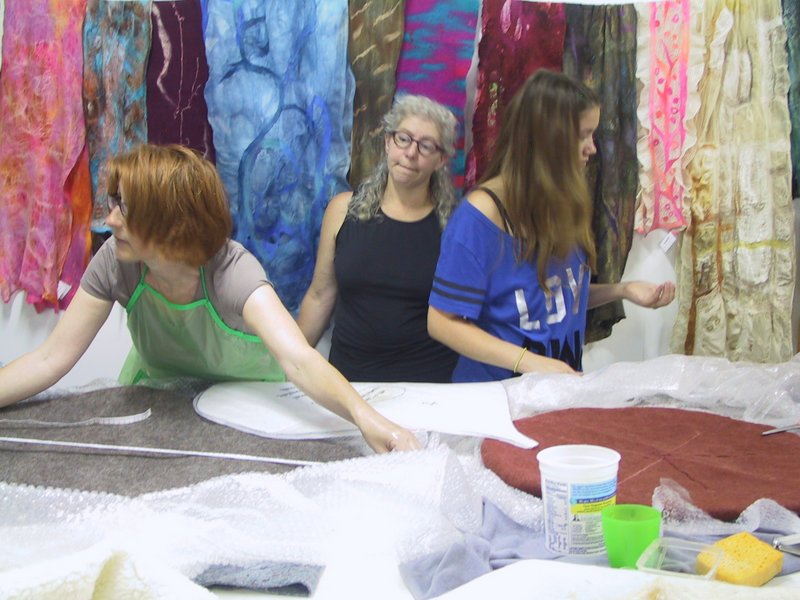 As I witnessed the studio full of feltmakers literally up to their elbows in wool being rubbed, rolled, soaped and shaped, I was humbled by the strength of these women.  No one else quit, they barely slowed down while heaving these heavy, heavy masses of wet wool, putting all of their upper body strength into the process.
Monika and Caro circulated, giving nuanced guidance to each person as their wool felted, then fulled, and the cat caves really started to take shape.  I believe the creative process brings community to a group; reminding us of our skills, inspiring us through the commonality of physical work and perseverance, that we are makers.  There is all kinds of power in that knowledge.