I love the way life shifts when summer arrives in northeastern New York.  Everything seems to become more relaxed and freer.  Warm days and balmy nights free us of the heavy clothes required by winter.  The landscape greens, flowers bloom and produce flourishes.   We focus more on having fun, and spending time with people.   The brevity of the season brings embroils us in a very, very busy pursuit of our relaxing activities-  we don't want to waste a moment of this precious commodity.
My felting life this summer has been full of felting adventures and wonderful people.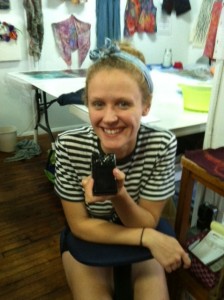 I got lucky when I agreed to accept Luckystone Studio's first intern.  Maureen is a senior at Cazenovia College, majoring in Fashion Design and Studio Art.  We immediately hit it off (we discovered we share a similar passion for the costuming in the BBC series Robin Hood, among other things)!  She tackled the reorganizing of my studio with determination, and set up a display of my felt work.  She was a big help during German feltmaker Monika Pioch's Cat Cave Workshop in June, and Australian/Japanese feltmaker Sachiko Kotaka's July workshop: Felting with Beautiful Recycled Kimono Fabrics.   It was a perfect opportunity for Maureen to experience two diverse but equally excellent feltmakers and observe the nuances involved in running a workshop.
Maureen chose to make a vest as her final felting project, but the double sided yardage she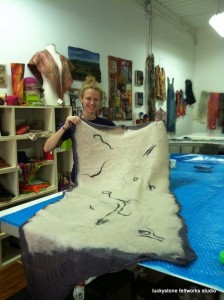 felted of cotton gauze and Australian merino spoke to her – it wanted to become a wrap.  I was skeptical at first, but she wasn't at all.  She worked with my dress form and draped her piece, creating a wrap with a dramatic folded collar, showing off the simplicity of her surface design to great affect, and making use of the soft gathering of the fabric edges.  I showed her how to make Polly's "croissant button" and it was perfect!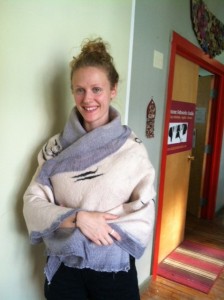 I was sad to say goodbye to Maureen last week as she departed for her final year at college, but happy for her assuredly bright future.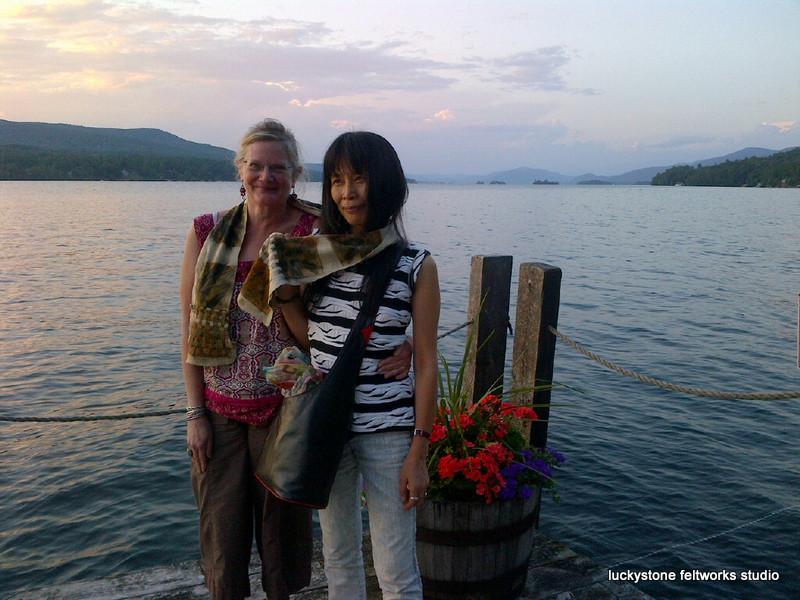 In July, my Australian friend Sachiko Kotaka returned to my studio for her second guest instructor visit.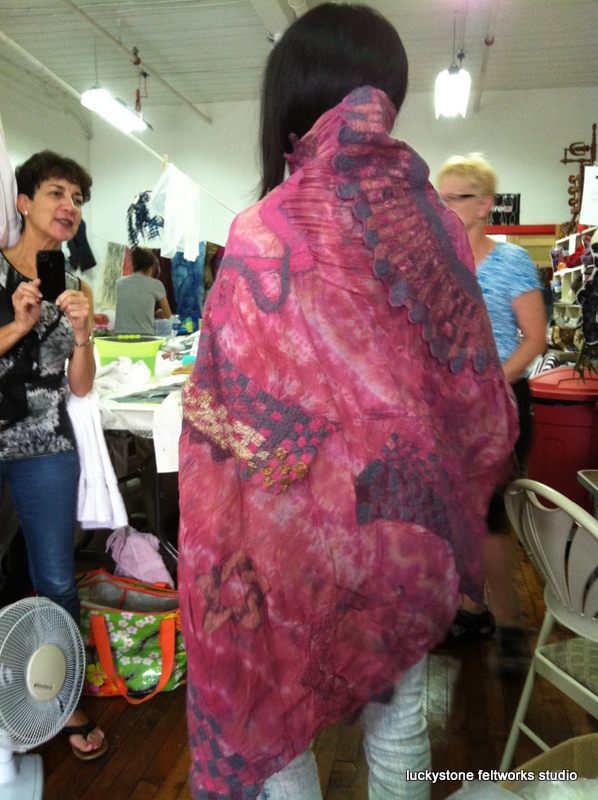 (She was here in 2010 to teach at a retreat I organized for her and my sister Polly Stirling.)  This time around I was able to participate in the workshop thanks to Maureen's help with administrative tasks.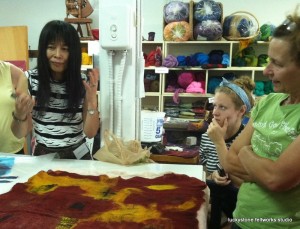 It is hard not to love Sachiko's inventive, intuitive and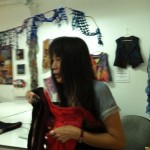 complex approach to feltmaking, and her always enthusiastic presentation.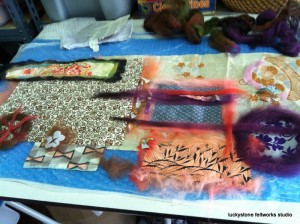 I have long been in love with the intricacies of Japanese kimono fabrics- ranging from subtle to rich in color, pattern and weave – echoes of Sachiko's personal design style.  As usual, I changed my own layout over and over before I was satisfied.  The outcome is quite busy, but not boring!  I think Sachiko would declare it "healthy"!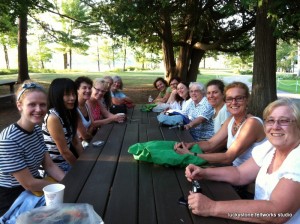 I arranged for Sachiko's students to share dinner at Wiawaka one night, my favorite place!  We had show and tell around the picnic tables.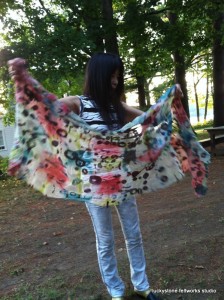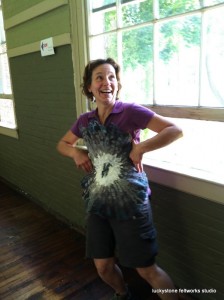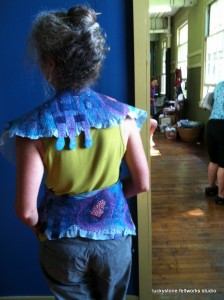 I stayed busy teaching, in addition to hosting guest instructors at the studio.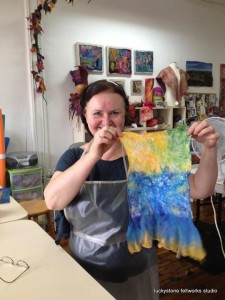 I frequently receive requests from students wishing to learn a specific technique that they are having difficulty with- the nuno technique in particular.  One motivated student I really had fun with was Nelly from Princeton.  Nelly had done some remarkable felting design work on her own via you tube tutorials, and our one-on-one gave her the opportunity to ask a zillion questions and fine tune exactly what she wanted to learn- I taught her three nuno layout methods and a flat felt ruffling technique.  Her biggest challenge had been the Uruguayan wool she was using.  A good wool, but not well suited to her purposes.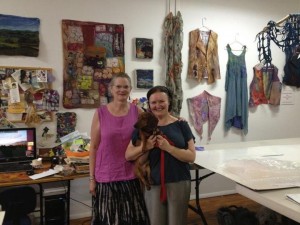 My favorite part of teaching is hearing "this is exactly what I wanted to learn!"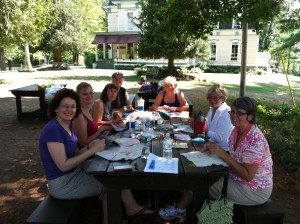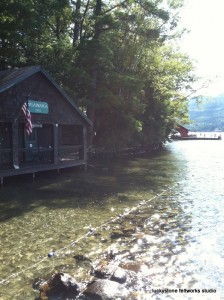 In July, I taught Wiawaka Felt at my home away from home, Wiawaka Holiday House, on Lake George.  My dear felting friend Sherry Horn assisted me, and we gathered thirteen enthusiastic students.  We made small flat felts using my collage art felt techniques, working in the House of Trix, right beside the lapping waves.  The following afternoon, we gathered under the pine trees at the picnic tables by Fuller House to stitch and embellish.   Lots of observers passing by seemed eager to join my Wiawaka felting workshop next summer.  It's become a favorite  of my summer.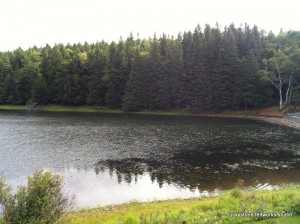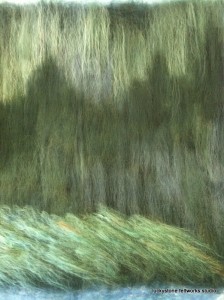 At the close of summer I shared an amazing week with a small group of feltmakers at the Huyck Preserve in Rensselaerville, NY, organized by friend Sharon Costello– felting in nature.
Back at home, my beloved Maine Coon Cat Freya was winding up her life with us, keeping my husband Harry company.  She had incurable cancer but always remained her sweet-natured self.   It was difficult to be away from her at the end of her life, but being surrounded by the beauty of the Huyck Preserve in the company of felting friends couldn't have been sweeter.