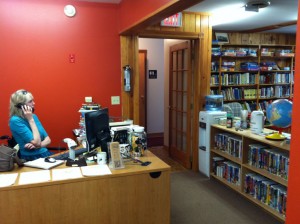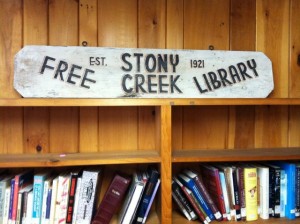 Given the gloomy status of governmental funding for the arts in our depressing global economy, I am happy to report that hope is not lost!
This Spring I had a most rewarding teaching experience.  My friend Patrice Jarvis-Weber invited me to teach feltmaking as part of a workshop series at Stony Creek Free Library, a bit less than an hour north west of Glens Falls, where I live.  Patrice is a dynamo; teamed up with her equally visionary colleague Lisa Bartow, Library Director, they put together exceptional arts and cultural programs for their community.  Theirs is a great example of what a Library can be.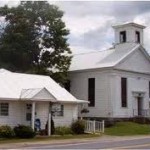 A Bit About Stony Creek
Stony Creek is an interesting place, located entirely in New York State's 6½ million acre Adirondack Park; the largest state park in the US.  The town's population peaked with the tanning and logging industries around the turn of the 19th century, at 1,200 residents.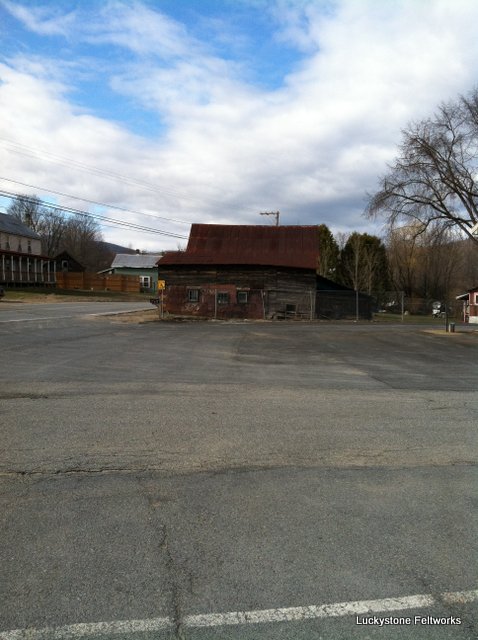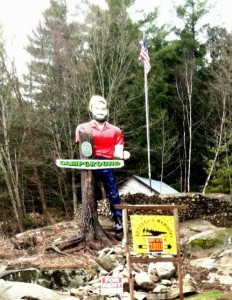 By the beginning of the 21st century, when the Hemlock trees were logged out and the tannery closed, the permanent population declined to 743.  The rugged beauty of the area attracts locals and visitors for hunting, camping, skiing and hiking.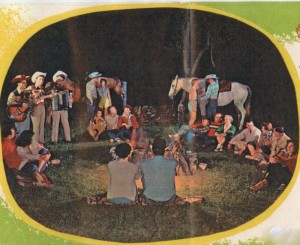 Dude ranches and Rodeos remain from their '40s hay day (here is a link to an interesting video from PBS on the history of dude ranches in the Adirondacks).
A great tradition of music is carried on at the Stony Creek Inn, as it has for 150 years. When I spoke to Patrice about the residents attracted to the Adirondacks, she offered "I think we come here to hide".
A Great Example of Government Funds at Work
Stony Creek's workshop series was funded by a Community Arts Grant from Lower Adirondack Regional Arts Council (LARAC).  LARAC receives funds from NY State Council on the Arts (NYSCA) as a Decentralization site.  NYSCA's web site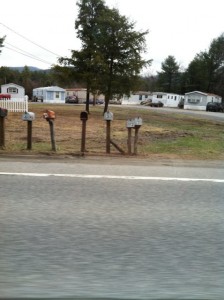 shares the Decentralization Grant Program Mission: To support local decision making in public arts funding, NYSCA established funding partnerships with arts and cultural organizations covering every county across the state. …At NYSCA, our efforts are guided by our belief in the fundamental importance of arts and cultural expression in people's lives and a commitment to serving our three constituencies: artists, arts and cultural organizations, and the public.
The beauty of this granting process: federal funds are allocated to state arts organizations such as NYSCA. The state agency allocates monies to various regional arts and cultural organizations like LARAC, who in turn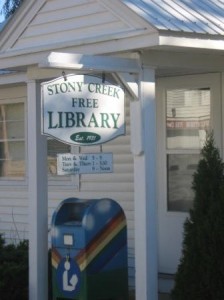 reveiws and awards grants to fund projects within the community. This way, local review panels, familiar with needs of their region can make informed decisions on what programs to fund. I served on the peer review panel for LARAC in the past, and I was impressed with how thoughtful and thorough the decision making process was. The LARAC grant make it possible for Stony Creek to offer workshops for a registration fee as low as $5 to $15. In addition to my workshop, they offered book binding, printmaking, and Manga Art Workshop for kids. Amazing!
The Artfelt Workshop in Stony Creek Town Hall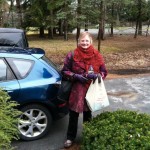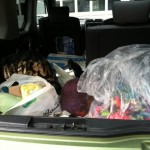 I got lost twice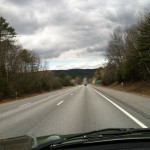 on my way to the workshop- I was distracted by the scenery and Wait Wait, Don't Tell Me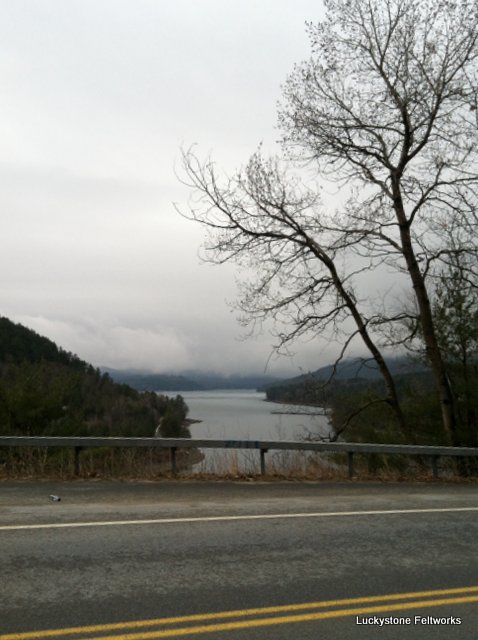 on NPR, with  Michael Pollan as a guest!
When I finally arrived in the center of Stony Creek, a van pulled up next to me and a woman hopped out.  It was the Library Director Lisa looking for me, correctly figuring I'd gotten lost- the beauty of a small town where it isn't hard to find the lost visitor!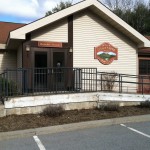 The workshop was held in the Stony Creek Town Hall.  The enthusiasm of my students made teaching a delight.  I was expecting 15 so I was well prepared with a mix of fibers.  I demonstrated my process to make wet felted collages, everyone was very focused.  They seemed to really appreciate the possibilities and were interested in exploring.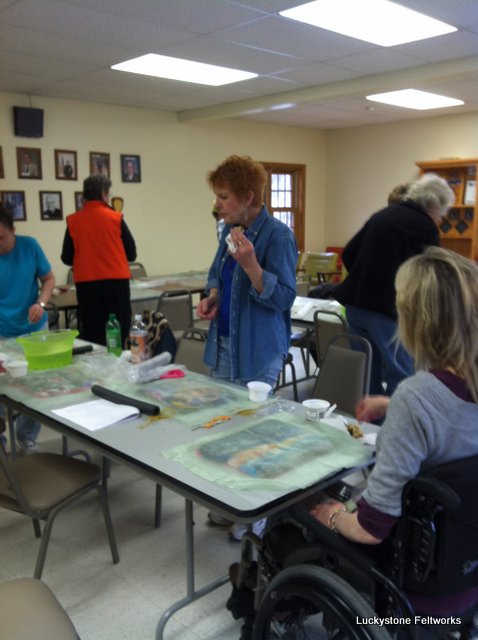 The best surprise was a daily delivery of a basket full of HUGE chocolate chip cookies hot from the oven of Patrice's husband Eric.  Wow!  I decided right then: "Will teach for cookies."  (I won't even mention that he brought hot brownies on day two.)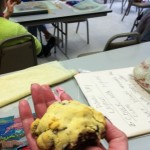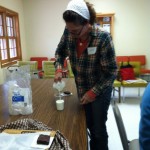 We finished felting on day one, on day two we pushed all of the tables together; with beads, threads and paillettes in the middle to share; and hand stitched to embellish the surfaces.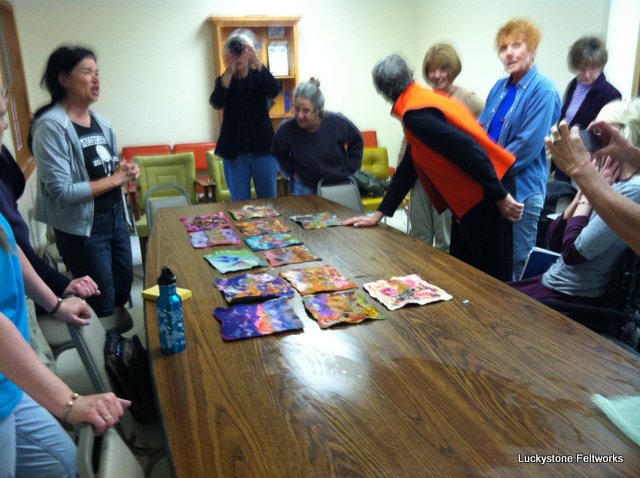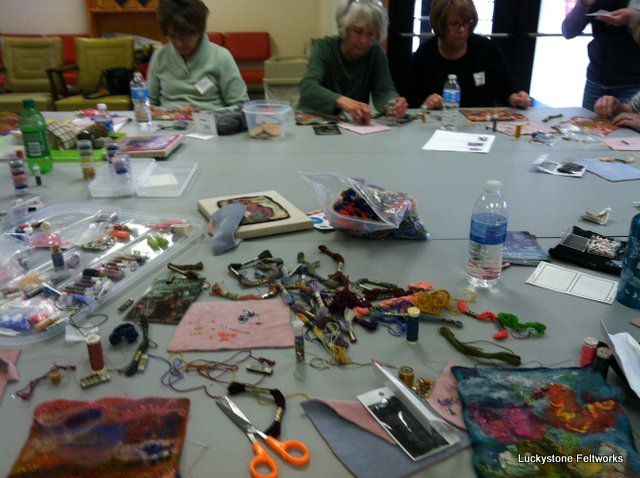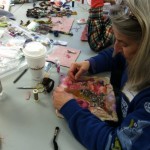 I love teaching my artfelt workshop.  Especially on day two when everyone is pumped from the magic they've created, and we sit communally and stitch.  It was a really special time, getting to hear stories and learn about life in Stony Creek and surrounds. Everyone agreed that in order to live there, you must first of all have an appreciation for natural beauty, and that when people there will rally together to help out anyone in need. One student told me a saying about Stony Creek "everyone knows your business, but no body cares."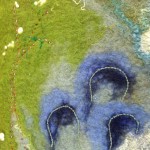 I often hear women remark at a workshop that they are so glad they made time to come, or it has been a long time since they did something creative.  Or they arrive insisting they are not creative.  Felting is  such an intuitive way to be expressive, and it seldom disappoints.
The diversity of the feltwork from this workshop confirms for me how personal, and important creative expression is.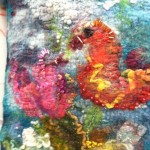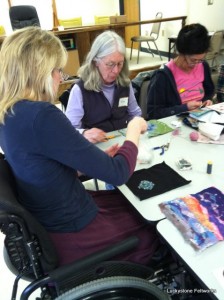 Everyone was buzzing by the end of the workshop. Someone in the group suggested they hang a display of their work.   A few weeks after the workshop, one of the participants stopped by my studio and told me that they did indeed hang an exhibition of their felt work in the library.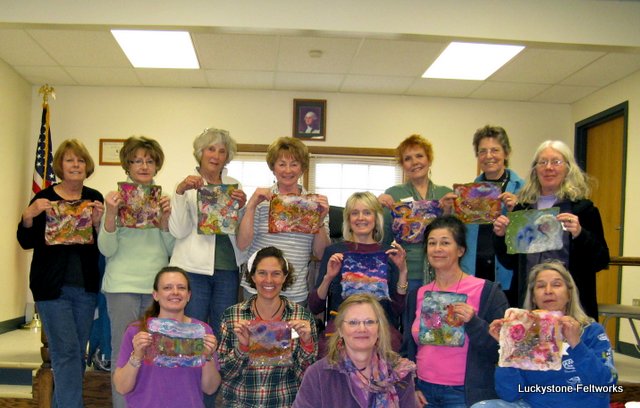 I'd say that Stony Creek Free Library's Workshop Series is demonstrating excellent use of LARAC and New York State Council on the Arts funding to make  a positive contribution in their community.   What a beautiful ripple effect…