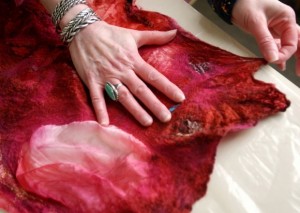 Robin teaches a wide range of feltmaking workshops throughout the year at Luckystone Feltworks Studio. Click here for the current schedule & please check back often for updates.

(Scroll down for descriptions of Robin's workshop topics.)
Note: If you don't see a topic on the current schedule- workshops can be scheduled by request for two or more people, or private instruction can be arranged). Email for special requests.
In addition to Robin's workshops, we regularly host internationally known master-feltmaker friends from around the globe as guest instructors for special workshops and events. Click here for details: Special Events.
Click here to Register for a Workshop or Special Event.

Felting 101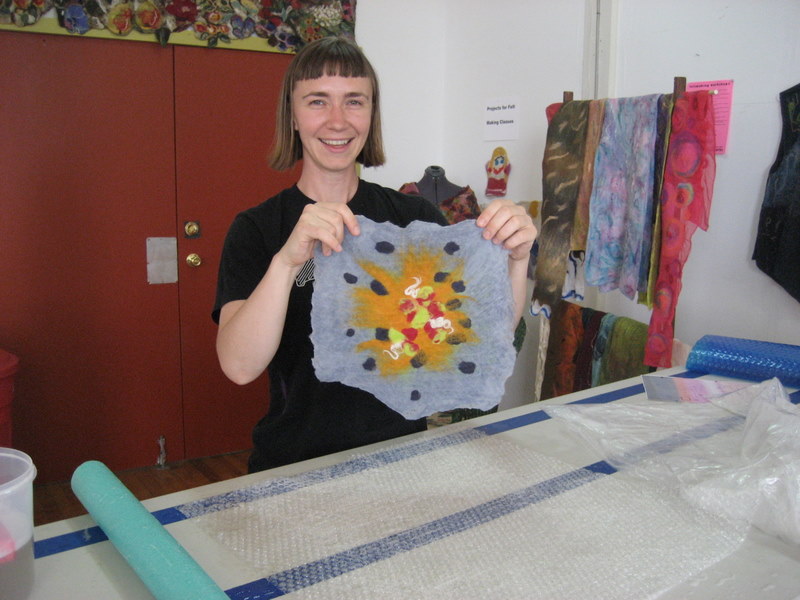 This 1 Day workshop is an introduction to the basics of traditional wet felting, the foundation technique for feltmakers. Learn the fundamentals of fiber layout, choosing appropriate materials for your project to prepare yourself with basic skills necessary to move on to more advanced projects. Experience the magic in transforming fiber to felt!
1 day 10:00 to 4:00 PM
$85 + $20 materials fee

Nuno 101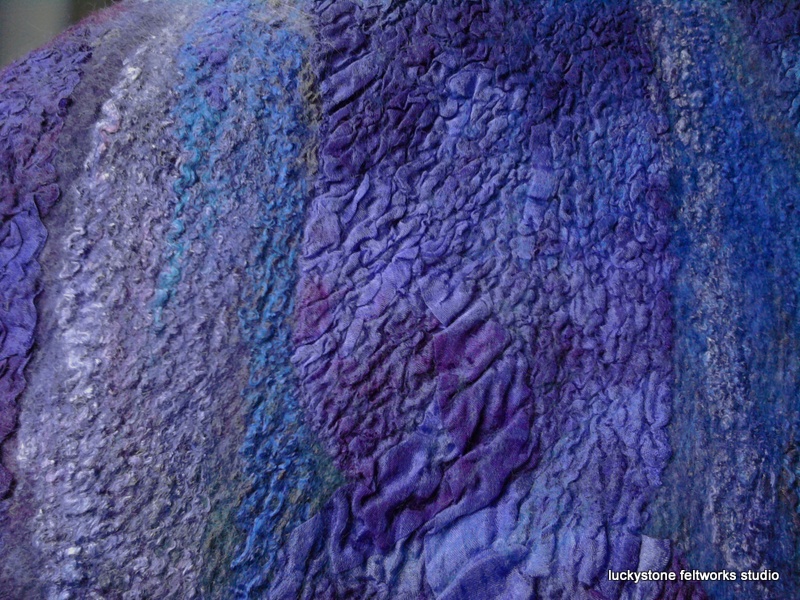 This 1 Day workshop is designed to give you a working knowledge of the nuno technique: a method of felting wool fibers into a fabric base. Participants will create nuno felt samples as they explore different layout methods, fabric weights, and creative possibilities.
The word nuno means cloth in Japanese; the technique I teach was named and developed by my sister Polly Stirling, and her assistant Sachiko Kotaka, as a result of Polly's experimentation to develop lightweight, drapeable felt that would be suitable for the tropical Australian climate she lives in. Variations on nuno are endlessly influenced by choice of fiber, fabric, and felting methodology.I recommend taking Felting 101 first, if you have no wet felting experience.

1 day 10:00 to 4:00 PM
$85 + $35 materials fee
Nuno Grid Scarf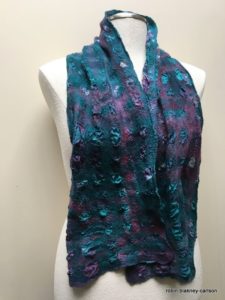 1 Day Felting Workshop
For all levels of experience
This workshop is all about color and texture. Learn a foolproof nuno felting technique to create a lightweight silk and wool scarf. We will be felting with hand dyed silk paj and superfine Merino wool roving. The layout technique I will teach you guarantees maximum texture and rich color.
If you are intimidated by combining colors, fear not! The wool and silk colorways you choose from are dyed to match.
Felting 101 and Nuno 101 are helpful introductions to this workshop, but not required.
1 day 10:00 to 4:00 PM
$85 + $38 materials fee
Felting Nature's Forms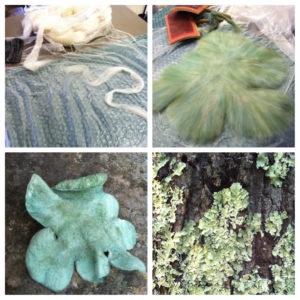 In this fun 2 Day workshop we will learn how to interpret a form from nature in felt- semi-realistic (but enlarged). We will learn the steps beginning with drawing a pattern, through determining the most effective materials, layout and shrinking to shape and manipulate an end form. The techniques practiced in this workshop can be adapted to many other projects and expand your felting skills. Think painterly and 3 dimensionally as you hone your observational skills.
Basic felting experience required. Students should bring several clear photographs, of their subjects; preferable saved on a device that allows for enlargement to view- a tablet is ideal. We may have time to make more than one form so bring several sets of images or the real thing. I recommend taking Felting 101 first, if you have no wet felting experience.
1 day 10:00 to 4:00 PM
$85 + $30 materials fee
Ruffled Nuno Scarf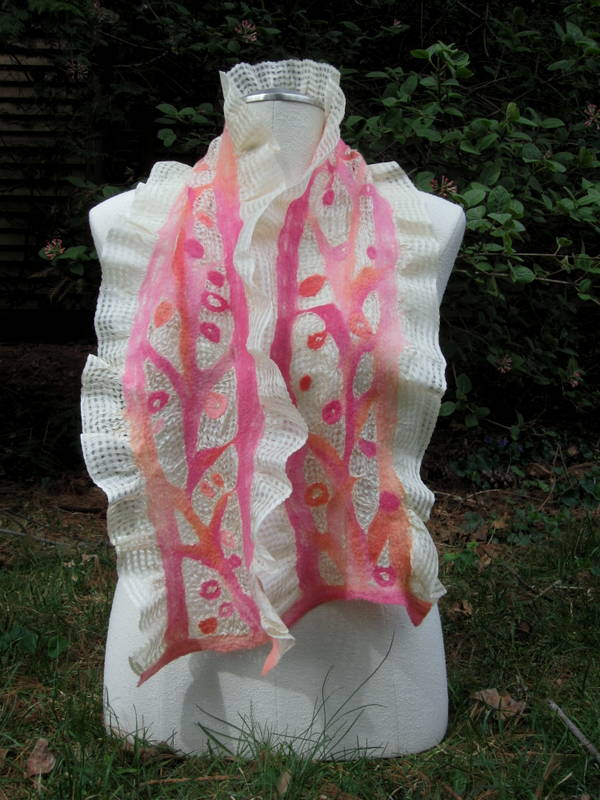 Create a feminine ruffle edge nuno scarf in this 1 Day workshop. We will be felting with a palette of hand-dyed superfine merino wool, and light weight silk fabric. One of the brilliant things about this scarf design is that very little wool comes in contact with the wearer's skin, making it a great accessory for warmer weather. Beginner friendly, but felting experience helpful.
1 day 10:00 to 4:00 PM
$85 + $38 materials fee
Nuno Collage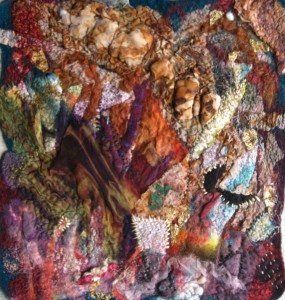 Create a uniquely textured nuno collage in this one day workshop. We will be felting with a palette of fine merino wool, locks, silk fiber, flax, ramie, nepps and an array of light weight silk and cotton fabrics. Experiment with unfamiliar fabrics and fibers as you learn to wet felt a textured nuno collage.
Inspiration can be drawn from the landscape or your imagination. This is a freeing form of fiber play. Students can choose to stitch on their felted collage piece at home. Beginner friendly, but felting experience helpful.

1 day 10:00 to 4:00 PM
$85 + $30 materials fee

Cobweb Felt Scarf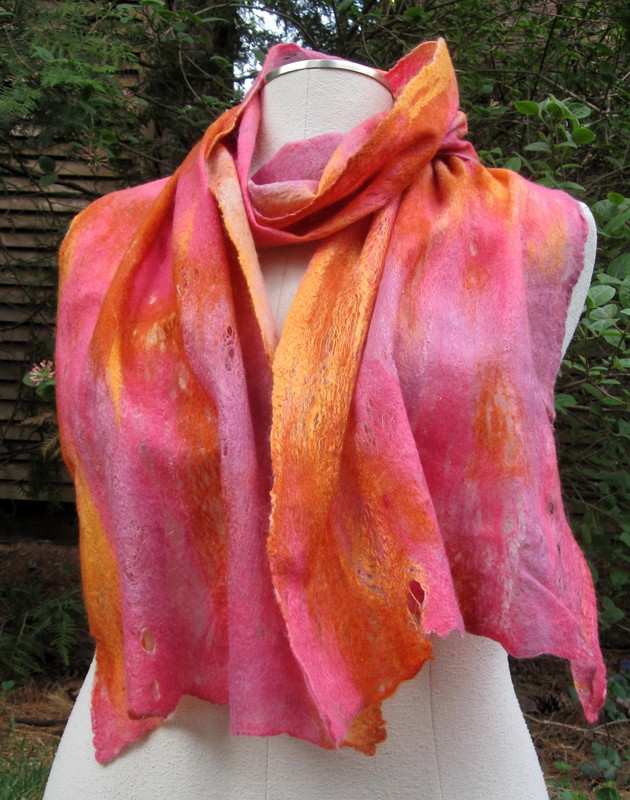 Learn how to achieve the open texture of cobweb felt that distinguishes it from other wet felting techniques.
In this 1 Day workshop we will be making scarves with a silk/merino blend in your choice of colors. The gossamer weight of cobweb makes for a versatile fashion accessory. Toss it around your shoulders to keep off a chill on a summer evening, or loop it around your neck for a different look. This workshop is beginner friendly.
1 day 10:00 to 4:00 PM
$85 + $35 materials fee

Cobweb Cowl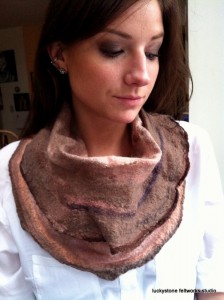 Silk and wool felt together to make a light, super soft and cozy cowl. Using a resist technique, learn to wet felt this beautiful and practical accessory. This is suitable for indoor wear, or it can be made heavier as an outdoor weight cowl. Your choice!
1 day 10:00 to 4:00 PM
$85 + $25 materials fee, aprox.
Exploring Fleece

Have you ever wondered about the characteristics and properties in wool from the different breeds of sheep? And what to consider when you are sorting a whole fleece? How to incorporate longwools and locks in your felting?
In this workshop we will be sampling fleeces from different breeds of sheep, sorting a fleece, and exploring methods of felting and attaching locks. You will leave with samples of different breeds of sheep's wool and felt.
I have been felting with raw wool and preparing fleeces for spinning for quite some time. I encourage all felters to familiarize themselves with unprocessed and local wools- it is a whole new world apart from the mill processed Merino we know (and love).
This workshop is for any level of experience and helpful to handspinners as well.
2 days 9:00 to 5:00 PM
$180 + $35 materials fee
Images in Felt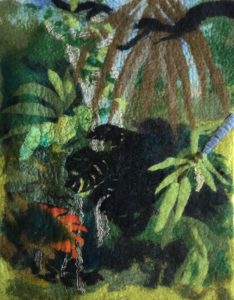 Using prefelts, wool fibers and fabrics- render a botanical image in wet felt. We will explore methods to illustrate your design, considering materials and composition. A photograph is a useful reference.
1 day 10:00 to 5:00 PM
$90 + $25 materials
Nuno Collage Scarf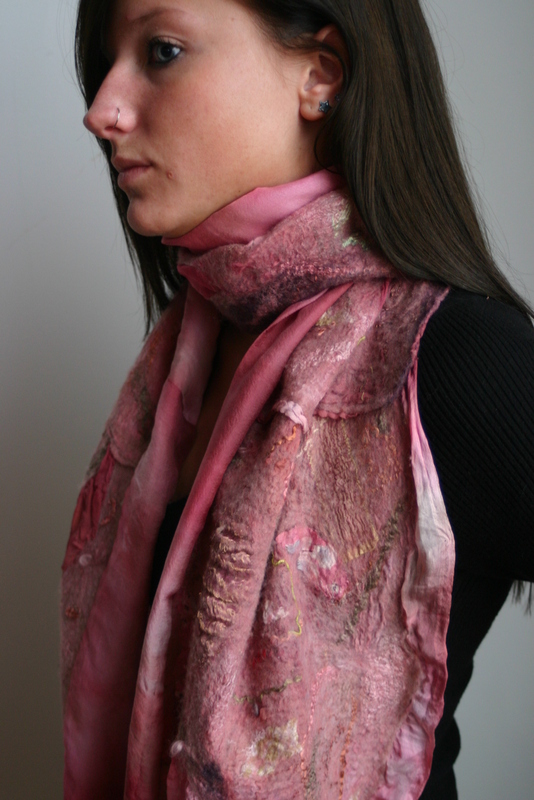 The nuno felting technique lends itself to experimentation with texture and color. In this 1 Day workshop participants will create a light weight, drapable scarf using fine layers of merino wool, novelty fibers and a base of light weight silk fabric. Learn how
to choose materials and a surface design that can be elegant or playful, to suit your personal style. Beginner friendly.
1 day 10:00 to 4:00 PM
$85 + $38 materials fee aprox.
V Wrap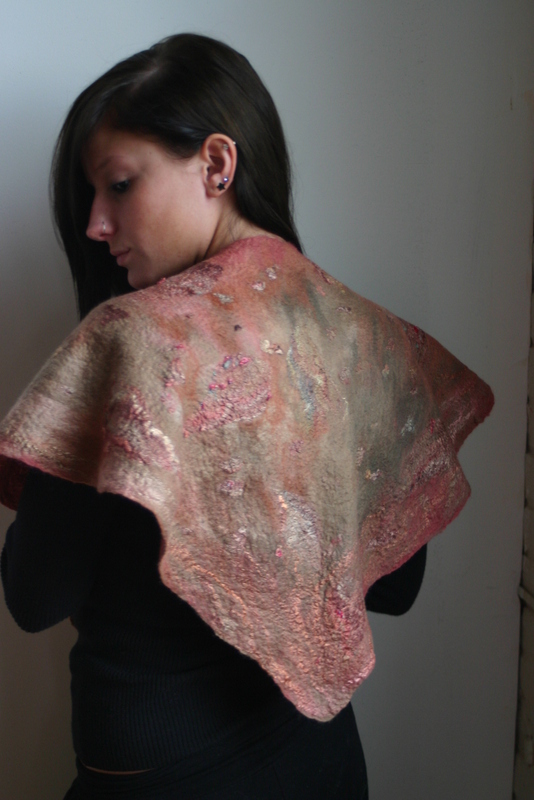 This workshop uses a unique layout technique and a template to create a stylish and versatile merino felt wrap that can be worn in a variety of ways. It is a great technique for experimenting with color and surface design.
Unlike a knitted shawl, the wet felted wrap is much more durable.
1 day 9:30 to 5:00 PM
$95 + $35 materials fee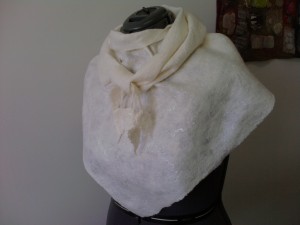 Double Nuno V Wrap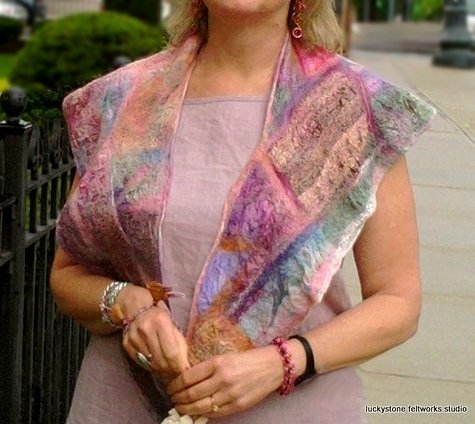 2 Day Workshop. This double sided wrap is created with hand dyed and recycled sari fabrics, merino wool and silk roving. The minimal amount of wool used to felt the layers together results in an airy, light weight wrap. Similar to the V Wrap in design, the pieced nuno version is perfect for Spring into Summer wear. Intermediate felting experience recommended.
2 days 9:30 to 5:00 PM
$190 + $40 materials fee
Lattice Wrap

Create a chic open work wrap out of soft merino wool using a wet felting technique. This wrap would be perfect for year-round use. Beginner friendly.
1 day 10:00 to 4:00 PM
$85 + $30 materials fee


Felt Collage

This beginner friendly workshop is a fun way to explore texture in feltmaking by combining a variety of fabrics, yarns and felting materials to achieve texture and interest in the surface design.
1 day 10:00 to 4:00 PM
$85 + $30 materials fee
Landscape Sketches in Felt

The landscape is a perfect subject to render in felt, by taking advantage of the textures inherent in natural fibers. Spend a day exploring new possibilities. Beginner friendly.

1 day 10:00 to 4:00 PM
$85 + $30 materials fee
Art Felt Techniques
This 2 day workshop is designed for students who wish to work a bit more in depth to create a highly textured and embellished surface. I encourage students to work intuitively, without pressure. You will be surprised by what evolves!
On day one, we will wet felt our piece; combining a range of plant and animal fibers: fabrics, silks, yarns and wool, using resist and collage techniques.
Day two will focus on developing the surface through the addition of hand stitching, beads and embellishing techniques. We will explore each individual work as a group, and discuss possibilities for strengthening the design, then begin the relaxing work of stitching.
This workshop is for all levels of experience. Finished pieces can be mounted to hang as wall art or used as decor akin to the art quilt. Mounting techniques will be discussed.
2 days 10:00 – 5:00
$180 + aprox. $38 materials fee
Felt Yardage for a Walkabout Vest

(This workshop is for creating yardage only, not a finished vest).
Felting the yardage to sew a vest can be a daunting prospect! So many details to consider: choice of fabric base, amount and type of wool fiber, size of layout, shrinkage rate, surface design and maintaining consistency between two separate layouts. Not to mention the large workspace required! The structure of a workshop can be very helpful to the success of tackling an involved felting project. I will lead you through the tricky stuff, and provide the work space to felt your vest yardage. We will be referencing Polly Stirling and Diane Ericson's Walkabout Vest Pattern.
NOTE: Sewing is not part of this workshop, we will be felt the yardage and
you will take your yardage and pattern home to sew (or have a seamstress sew for you).
2 days 9:00 to 5:00 PM
$200 plus $16 pattern + materials fee based on use
Additional days can be arranged for sewing guidance.
Walkabout Vest

We will be using the Walkabout Vest pattern, designed by Polly Stirling especially for use with hand felted yardage, published by Diane Ericson and ReVisions Patterns. We will be making our felt textile and sewing our vests- custom fitted to the wearer. There is a lot of room for creativity with this interesting pattern. Sewing skills and a working sewing machine are necessary. Not for beginning felters.
4 days 9:00 to 5:00 PM
$400 +$16 pattern + materials fee
Small Pocket Bags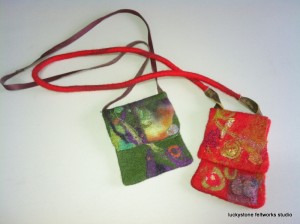 Working with a base of needled batt, a resist, and merino top we will make small single flap bags that can be worn cross shoulder style or from a waist belt. This style was inspired by the Colonial pockets worn by women and men.

1 day 10 :00 to 4:00 PM
$85 + $30 materials fee
Window Pelmets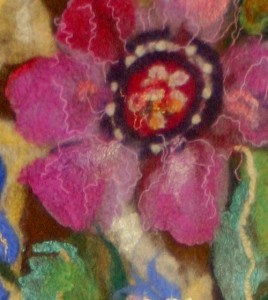 Working with a combination of merino batt and roving, we will be creating window treatments for your home.
They look beautiful over a door way, or hung like a valance in a window. We will be using a wet felting technique. Hanging methods will be addressed. Bring measurements of your window or doorway for customizing the size.
2 days 9:00 to 5:00 PM
$200 + materials, aprox. $55
Complex Collage Bags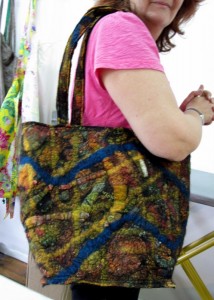 3 day workshop. This technique combines sturdy wool, felted with fabrics, prefelts, locks, and a variety of fiber elements. The felt surface will evolve with wear, like the erosion of rock, revealing changes in color and texture.
We will line the bags with interesting fabrics, and add metal feet, magnetic closures and leather handles.
We will be making our felt on day one and making straps, lining and sewing the bag together on days two and three.
A well working sewing machine, knowledge of your machine, and basic sewing skills required.
3 days 9:00 to 5:00 PM $300 + materials, aprox. $55
Hand Felted Nuno Yardage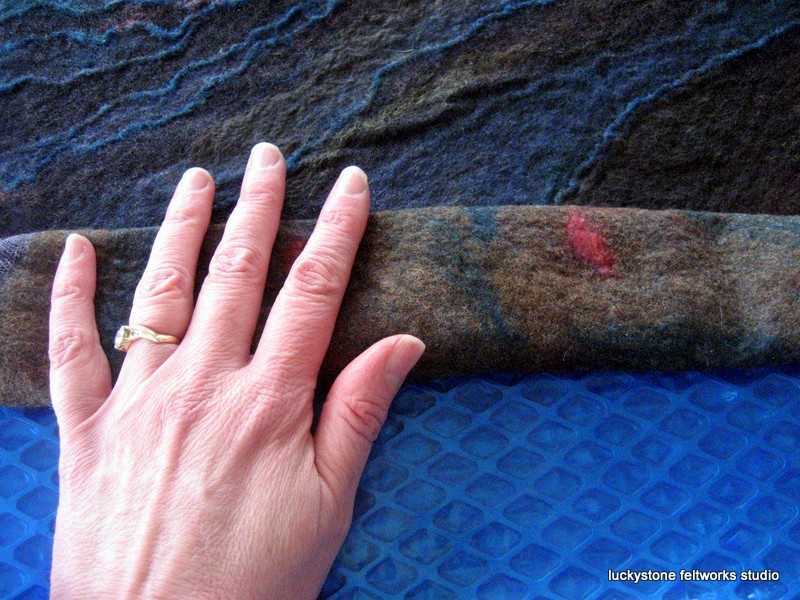 In this this two day workshop students will produce two lengths of light to medium weight nuno felt yardage, approximately 32″ x 64″ each (enough to sew a jacket). The base weave in nuno felt gives stability to a garment. If sewing is not your thing, why not have a seamstress construct a garment for you? Consider creating felt for a window treatment. We will cover selection of materials, surface design and proper felting technique to create durable yardage. This workshop is a good opportunity for anyone who may not have the space, experience or confidence to tackle a large project on their own.
2 days 10:00 to 4:00 PM
$170 + materials fee, based on usage
Pieced Nuno Scarf
This workshop is for experienced feltmakers. Create a stunning nuno scarf using a complex base of a variety of silk fabrics, and a surface design in merino wool and silk fiber.
The result is an elegant, subtle work of wearable art.
1 day 9:00 to 5:00 PM $100 + materials

Fleece Felt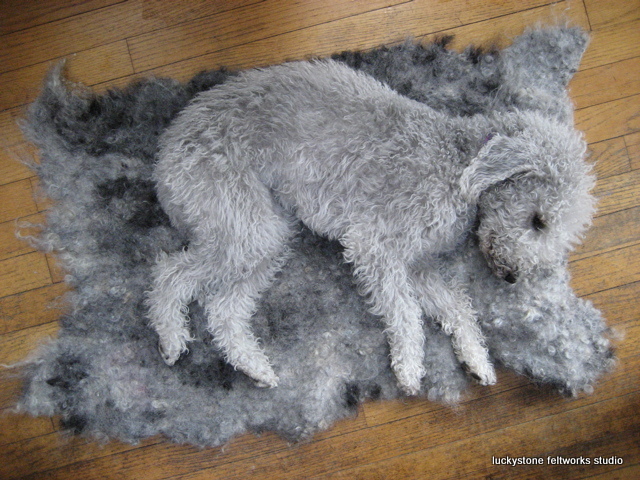 Fleece Felt is a workshop not only for the pet lover, but any one who likes to create! This fun felting technique makes the most of longwool fleece to create felt which retains the longwool's characteristic luster and curl.
Make a rugged wool mat to protect your furniture, provide a favorite pet a cozy napping place, or add a touch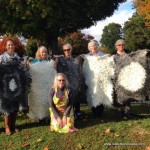 of earthy texture to your home. Toss it in your car, on your couch or floor. The mat is a nice throw rug if you don't have pets. We will be working with uncarded longwool fibers in natural, undyed shades to create our felts. It is a very tactile experience and beginner friendly. I introduced this workshop at Rhinebeck NY State Sheep and Wool Festival in 2009.
2 days 9:00 to 5:00 PM
$200 + materials, aprox. $55
Open and Mentored Feltmaking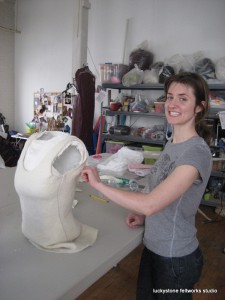 Come with your own agenda. I will be available to help you with a project of your choice and provide you with the work space and equipment. Bring your own fiber, or purchase the fiber you need at the studio. Oversize projects by special arrangement. Prior registration required.
1 day or more, 10:00 to 4:00 PM
$85 per day + materials based on use